When we moved house, we went back to the to drawing board and stripped the house back to brick. Looking at room layouts, the conclusion was that a built in wardrobe would be a nice feature so I had my first big project.
The dimensions of the space meant that any attempt to purchase some standard base units would waste space so after some general measurements I framed the area with 2×4 studs with strategically placed struts in between. This meant that I was able to extend the wardrobe to the ceiling. The studs were secured to the wall and the floor so was pretty solid by the time I finished with it.
There were three sections, the middle section was kept wide enough to fit in an IKEA chest of drawers with a mirror on top. The two equal sized areas on either side needed custom doors mainly due to the height of the whole things.
Using internal softwood cladding I covered up the frame, the challenge was the top of the front of the wardrobe as the ceiling was sagging a little. I was able to scribe a section of cladding and cut it to fit. The cladding worked so well that I used more of it to make some barn doors for each side. utilising the tongue and groove on the cladding made making the doors incredibly easy.
Then using a Barn Door Sliding Track system I was able to get them functional. My circular saw skills were not the best with the doors at the top but at more than 2.4m off the ground no-one notices….. 🙂
They doors wobbled a bit at the bottom so two adjustable Floor Guides for the doors kept them on track.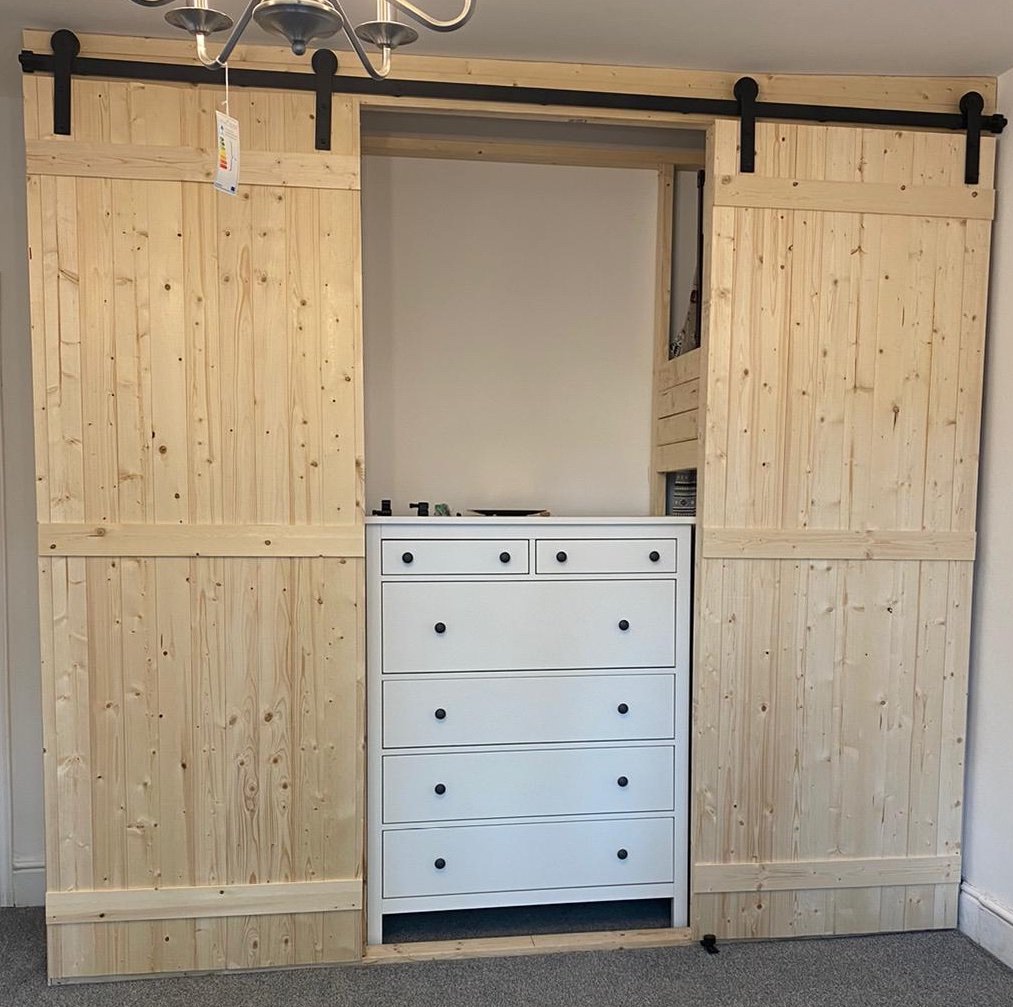 With the height of the wardrobe I was able to put two rails in. A standard one just above the level of the chest of drawers and a pull down one as well. The doors were completed with a bit more cladding and since then we've just been deliberating whether to varnish or paint…..

Overall this was a relatively straightforward project but a bit time consuming. The size of the cladding and new carpets meant that I had spend a lot of time going up and down the stairs as I had added a mitre-saw to the arsenal and wanted to use it. The key outcome measure is family satisfaction and that remain high 🙂
Material including: 2×4 studwork timber, wood screws, wall plugs and softwood cladding.
From Amazon I got the barn door sliding track system, the pull down clothes rail and the regular clothes rail, and the door handles.
Tools: Starting with a circular saw but a mitre-saw was very handy. Shout out to Ryobi…..still looking for sponsorship.